Turn your backyard or newly bought acreage into the beautiful backdrop you want. The team at Clay's Brush Stump & Tree Removal will promptly and efficiently clear any brush or trees on your land. We take great care not to damage your property — if a situation arises where skidders are not practical, we work with local woodsmen to keep costs low. Contact us today for more details about our brush clearing service.
Tree and Brush Clearing
Whether you want a clear plot of land for easy maintenance or space to build upon, we can clear the way. Using a US Flail Mower mounted on an excavator, we remove brush and trees from your property, so you can take advantage of your land in the way you wish. To minimize debris, the brush is mulched as it is cut. After the brush is cleared, we then perform a thorough cleanup of any remaining stumps and chips, ensuring a quick transition to usable land.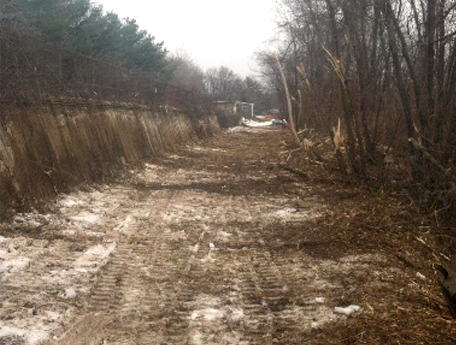 Brush Clearing in Brentwood, NH, to Prevent Pests
Snakes, insects, rodents, and other unfriendly pests love to take shelter in expansive piles of brush. When you have brush piles, dead trees, and fallen logs in your yard, your home is at risk for pest intrusion. When you schedule brush clearing in Brentwood, NH, from our team, you can protect your home from dangerous and unhygienic pests. Reach out today to schedule brush clearing services and avoid the dangers of pest incursion including:
Spread of Bacteria and Disease
Bites and Scratches
Chewed Wires and Furniture
Urine and Droppings in Home
Unpleasant Smells
Create the Backyard You're Dreaming Of
Whether you just purchased undeveloped land, are expanding your backyard area into the forest or fields, or have simply allowed brush to grow in your existing space, we're here to provide comprehensive tree and brush clearing. In addition to removing areas where pests are prone to hide and increasing your backyard space, brush clearing can improve the value and curb appeal of your home. In our area, residential outdoor space is highly sought after, so creating as much clear space in your yard as possible is vital if you're planning on selling your home in the near future.
When you're ready to schedule brush clearing services with our skilled and safe experts, reach out to us. We use top-quality equipment and methods to safely and completely remove any brush, tree branches, or unwanted trees from your property.
Contact us to schedule brush and tree clearing from our team. We proudly serve clients in Brentwood, New Hampshire, as well as the surrounding areas.